Helping teens and parents in the San Jose area
Book an appointment online, ask questions via our form, or call us. We'll get back to you as soon as we can.
We're happy to answer any questions you may have about how our teen counseling sessions work.
Are You A Teen Struggling With The Pressures Of Life?
Does it feel impossible to maintain the expectations set by your parents, teachers, coaches, and peers?
Have you noticed changes or setbacks in your academic performance, social life, and daily routine?
Are you lacking in community or having trouble connecting with friends and family?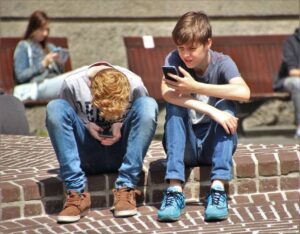 You may often feel anxious or depressed. Preoccupied with worries, you might have trouble feeling energized and motivated to study, complete chores, or engage with your interests. When your parents comment on or respond to these behaviors, you might perceive their reaction as unwarranted and overbearing. The more they push, the more you want to keep to yourself and retreat from the pressure of it all—whether that's by numbing your emotions, avoiding your home life, or escaping into your phone.
You might not feel comfortable sharing about certain aspects of your life with your parents, siblings, or friends. And if you were raised adhering to particular cultural or religious traditions, there may be additional pressures on you to follow certain rules and limitations. Maybe you're questioning parts of your identity—like your gender or sexuality—and you don't want to feel judged.
You may be struggling to accept yourself, evidenced by low self-esteem, self-destructive behaviors, and a negative body image. Caught up in the comparison culture of social media and the race toward college, you may battle with the nagging feeling that you don't measure up to those around you.
Growing into your own person can be a painful process. You want to be independent, yet you still yearn for a sense of belonging. As you're figuring out the path from being a teen to being an adult, aimlessness, lethargy, and other symptoms of anxiety and depression are likely to surface. But help exists.
Working with a therapist, you will find meaningful support from someone who can help you feel accepted and motivated.
On The Other Hand, You May Be A Parent Who Is Troubled By Your Teen's Behaviors…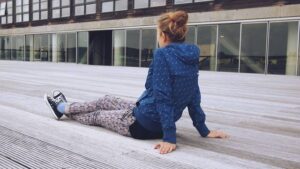 If you're the parent of a child ages 13 to 18, you may feel overwhelmed by the rollercoaster of adolescence. If your teen has exhibited symptoms of depression or anxiety, you're probably concerned about their wellbeing. And if your teen has become defiant, it's likely caused conflict and tension at home.
Perhaps a big change or recent challenge has affected your teenager emotionally, socially, or academically. If your family has undergone a divorce, move, or separation from loved ones, your child may have internalized a lot of the stress or felt an additional burden of responsibility. As a result, your teen may feel angry about their circumstances or worry that their emotions will add to your already full plate. So instead, they have turned inward and become preoccupied with their screen time.
Of course, you want the best for your child, but your concern and hypervigilance may be causing them to feel overwhelmed. Yet, in the safe, neutral space of teen therapy, your child can learn effective coping strategies and communication techniques that will allow them—and your relationship—to thrive.
Matters Of Identity Are Particularly Confusing During The Teenage Years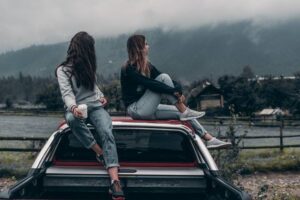 Adolescence is a time of significant developmental changes and life transitions. Though exciting and full of possibility, the process can be painful—even scary—at times. It's the job of a teenager to individuate, letting go of parental influence to become their own unique self. In many cases, the process of individuation looks like shifting the role of influence from parents to friends. That's why teens look to their peers and social media to develop identity.
Nevertheless, the comparison culture of social media can be very harmful. And in the hyper-competitive, top-performing culture of Silicon Valley, our community of teens grows up with some pretty high expectations.
Between contending with these pressures and developing a unique identity, challenges are bound to arise. Mental health issues, including depression and anxiety are especially common during the teen years.
However, as a teen in therapy, you can have your experience normalized to see that the questions and struggles you have are a part of your development. And as the parent of a teen in counseling, you can begin to accept that the friction you're experiencing with your child is a natural step in the process of letting go—they're developing their own strengths and perspectives that will help them be successful.
Therapy At J. Woodfin Counseling Is Customized For Teen-Specific Challenges And Identity Issues
Teenagers don't have many adults in their lives who are expectation-free—and much of their sense of right and wrong has been shaped by their parents' influence, which they sometimes feel the need to resist. With a counselor, teens can learn to become more flexible in their thinking as they understand how to slow down, reduce reactivity, and become more intentional.
In this safe, neutral atmosphere, teen clients have a place to process big, intimidating topics—like identity, sexuality, and life purpose—with a trusted adult who can offer healing perspective.
Our Process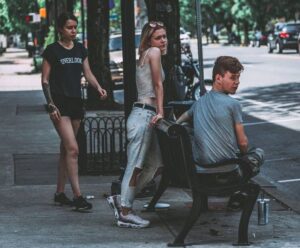 At J. Woodfin Counseling, therapy begins with an introductory session that includes both teen clients and their parents. We'll use this opportunity to ensure that your family is clear on the limits of confidentiality and comfortable with the process.
As our teen client, it's important that you feel like you have a voice in counseling. Our therapists want you to feel a trusted connection, and they are invested in affirming your strengths. Working together to identify counterproductive patterns and behaviors, we can help you live in accordance with your most authentic beliefs.
Oftentimes, you just need to figure out what to do with your thoughts and fears—and once you discuss them in therapy, you'll probably find an immediate sense of relief that you don't have to hold them in any longer. We'll also help you come up with effective strategies for managing your stress and communicating your needs. With these insights, you'll know more about your triggers and boundaries so that conversations with your parents, siblings, and friends can feel productive and satisfying.
There's nothing about you that needs to be "fixed." Therapy for teens can help you see the world from a hopeful, empowering point-of-view instead of a self-doubtful one. Use the opportunity of counseling to build lifelong skills and understand that your mental health is essential to your overall wellbeing.
Maybe You're Curious About Teen Counseling, But Not Sure If It's Right For You…
As a teen client, will you discuss what we talk about with my parents?
In the state of California, you—the teen client—are the holder of confidentiality. That means that you decide what your teen counselor can share.
Our therapists believe that you are the boss of this relationship, and we will respect your privacy. Your parents will be aware of the limits of confidentiality and your therapist will make sure to understand what your limits are, including things we can and absolutely cannot discuss with your parents. There are a few situations regarding safety concerns in which we have to involve your parents, but we will be very clear on those parameters so that you feel safe and protected in therapy.
As a parent of a teen who can be defiant or dismissive, how do I get them to go to therapy?
If your child is resistant to therapy, that's okay! It's important that your teen feels like they have a say in their mental healthcare.
I typically recommend that parents let their teens know that they only have to commit to one session and can rule it out if they don't think that J. Woodfin Counseling is a good fit. A lot of our younger/first-time clients find that it's nice to discuss their life in a judgment-free atmosphere and that the therapeutic process is not all that bad.
Can you get my teen to improve their grades, make different friends, or stop being so angry?
Parents tend to have specific goals for their child's therapy, and often, teen clients have different goals. Our counselors will do their best to accommodate the goals of both our teen clients and their parents. Ultimately, we are looking to foster a healthier, calmer, and more mutually supportive relationship between the two of you.
You Have A Voice—Let Us Help You Learn How To Use It
If you're a teen struggling with depression, anxiety, or challenges in your relationships, therapy at J. Woodfin Counseling can help you manage emotions and assert your needs.
To schedule a free consultation or book an appointment with one of our teen therapists, please visit our homepage.
If you're ready to consider therapy, Great!  You can choose your therapist and schedule your first session here:
Or if you have questions you can call or send us an email. 
We'll reply the same business day, answer any questions you have, ask how we can help, decide if we're a good fit for each other and we'll get the process started.