Experienced couples counseling in the San Jose Area
Get in touch with our couples counselors today. You can book an appointment online, ask questions via our form, or call us. We'll get back to you as soon as we can.
We're happy to answer any questions you may have about how our couples counseling sessions work.
Do You And Your Partner Struggle To Communicate And Connect?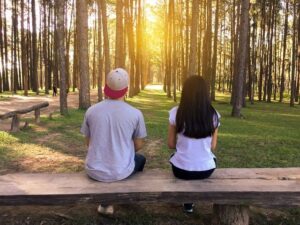 Are you and your partner experiencing frequent arguments or communication mishaps? Have you started to view your significant other as an adversary rather than a teammate, friend, and lover? Is having the same argument over and over causing you to question the long-term viability of your partnership?
Despite being in a committed relationship, you may often feel lonely. Alienated by ongoing conflict and tension, you might not know how to approach your partner about getting your needs met. Because you don't want another fight to happen, you probably avoid discussing your feelings. As a result, the shared intimacy between you two has dwindled—indicated by a decrease in your sex life or loss of attraction to one another.
Perhaps you think the problem lies entirely in your partner's behavior, or you're convinced that it's better to walk away than to face your issues head-on. You may be considering leaving the relationship, but factors like children or finances keep you from doing anything drastic. Separation and divorce are huge considerations to make, but you're not sure if something remains in your marriage or relationship worth fighting for.
If There Has Been Recent Change In Circumstances, Your Relationship May Be Feeling The Stress Of Adapting
Though you believe the issues with your partner are ongoing, unsolvable, and hard to pin down, there is an origin story of the fundamental challenges you've encountered in your relationship. Oftentimes, couples begin experiencing common communication hurdles after undergoing a significant change or transition.
Maybe you have recently decided to take a big step in your commitment to one another, such as moving in or getting married, or perhaps you've decided to open your relationship. If either one of you has undergone a big transition, like the beginning of a new career or the death of a parent, you may be having a difficult time relating to one another.
Not to mention, if you have children of any age, you and your partner have to navigate the stress of parenting on top of maintaining a healthy relationship—and juggling these responsibilities can be very overwhelming at times.
All you want is to go back to a time when the problems in your marriage didn't exist or get the clarity you need to decide how to move forward in the relationship. Frustrated by frequent obstacles or your partner's inability to change, you may have given up hope that your connection can be repaired.
But in couples therapy in San Jose at J. Woodfin Counseling, you and your partner can learn to navigate challenges and chart a new path forward—together.
It's Possible To Fall Back On Unhealthy Patterns And Expectations When Trying To Achieve An "Ideal" Partnership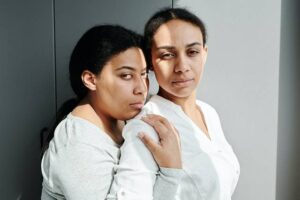 Given enough time, all relationships encounter periods of struggle. Every intimate connection requires tending and compromise, and broadly speaking, we can predict that certain periods of our relationships will be more stressful than others. For instance, we're aware that the first years of childrearing can be incredibly stressful on a marriage or relationship. Yet, because we can accept that transitions like these are temporary, there is an element of relief in knowing that these periods of distress won't last forever.
But what we understand rationally doesn't always translate emotionally. Many of us weren't raised in environments that modeled healthy communication, so when we grow up and form our own relationships, we can end up repeating the unhealthy patterns we learned as children. Our early experiences shape our notion of what an ideal relationship looks like—and when our partner does not adhere to those expectations, we likely blame them for problems in the marriage or operate with the belief that there is someone out there better suited to meet our needs.
We've all heard the statistic that nearly half of first marriages end in divorce. And while that number can be daunting, it also means that over half of couples can work through common stressors. By understanding that our relationships are a series of negotiations, we can achieve a sense of compromise and balance within our closest connections.
Working with a couples therapist, you can learn more about the relationship your partner is trying to create. With the knowledge you gain in couples counseling, you can begin a new series of negotiations that fosters closeness, intimacy, and mutual respect.
Couples Therapy Teaches You Essential Skills For Effective Listening And Communication
As couples work to re-establish a sense of balance within their relationship, feelings of suffocation, neediness, anxiety, and disconnect are likely to surface. Yet, therapy with a couples counselor allows the negotiation process to be more straightforward and effective. Couples counseling is a weekly opportunity to have difficult conversations in the presence of a trained clinician who can provide you with lifelong communication skills tailored to your unique relationship so that you can eventually navigate issues on your own.
At J. Woodfin Counseling, our clinicians consider their dominant role in couples therapy as that of an interpreter. When couples experience communication issues and breakdowns in their relationship, counseling offers a path to clarity and understanding without defensiveness. As we work with couples in learning different ways of asking for things and initiating boundaries, our clients achieve the active, empathetic listening that is key to their relationship's success.
Our Part In The Negotiation Process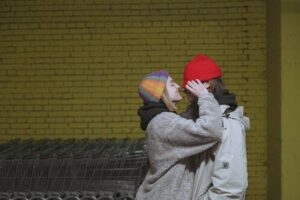 There is a difference between listening to understand and listening to respond—and couples therapy can help you identify that difference. By learning to make requests instead of demands and centering communication around your experience rather than your partner's behaviors, negotiations will become calmer and more intentional.
Drawing from the Developmental Model of Couples Therapy, your counselor will help you explore the unconscious desires you're trying to fulfill in your relationship. By examining different ways of expressing that desire or getting your needs met, you can conceive new ways to negotiate the closeness you seek without pain or conflict.
We also incorporate the relational models developed by Terry Real and Esther Perel into therapy. These methods can help you use language of accountability (rather than language of blaming) to create helpful boundaries and say no with kindness. With these newfound skills and perspectives, your relationship will feel more equitable and fulfilling.
Couples therapy in San Jose at J. Woodfin Counseling is the first step toward lasting harmony in your relationship. Working with us, you can understand that balance in a relationship is a practice—not a destination. In acknowledging that balance is an ongoing commitment, you and your partner will be able to find equilibrium both as a couple and as individuals.
You're Fed Up With Your Communication Issues As A Couple, But Still Not Sure If Counseling Is Right For You…
We can't talk to each other without fighting—how will couples therapy be any different?
A big part of what we do as couples therapists involves helping you and your partner stay regulated during difficult conversations. We are careful to establish conversational boundaries, slow things down as they start to escalate, and interpret your messages in a way that prevents further misunderstanding.
When conflict and tension make it impossible to talk to one another calmly, a skilled guide and interpreter creates the safety needed to ensure each partner's vulnerability and success in couples counseling.
Couples therapy is too expensive.
Counseling can certainly be expensive, but it is an investment in your life, relationships, and mental health. Whether or not you decide to stay in your current relationship, you will learn skills that will enable you to be successful in the future. In that regard, couples counseling is an investment in all of your relationships.
What if my significant other doesn't agree to therapy?
Your partner may be ambivalent about therapy for a number of reasons. Perhaps they feel that they will be judged or worry that they'll be characterized as the "bad guy" in couples counseling. But our job is to remain objective—there is no "bad guy" in therapy, and we challenge both partners to change their role in the relationship if it's not working.
Everyone can survive and benefit from even one therapy session, so if your partner is resistant, try asking them to join you for at least one session. It's our experience that even the most resistant partners want to continue coming to therapy after seeing how productive their initial session can be.
Through Effective Communication, You Can Achieve Balance And Harmony
Your relationship isn't doomed—you just need an interpreter to guide you and your partner in developing more effective communication. Couples therapy at J. Woodfin Counseling can help.
To schedule a free consultation or book an appointment with one of our couples counselors, please visit our homepage.
If you're ready to see if therapy is right for yourself and your significant other, Great!  You can choose your therapist and schedule your first session below. We offer experienced couples counseling in San Jose from our Los Gatos office.
Or if you have questions you can call or send us an email. 
We'll reply the same business day, answer any questions you have, ask how we can help, decide if we're a good fit for each other and we'll get the process started.