Effective anxiety counseling in San Jose
You can book an appointment online, ask questions via our form, or call us. We'll get back to you as soon as we can.
We're happy to answer any questions you may have about our anxiety treatment options.
Is Fearful, All-Or-Nothing Thinking Causing Problems In Your Life?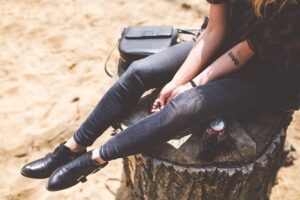 Are you struggling to feel in control and manage stress?
Does a need to be successful regularly lead to perfectionism, worst-case scenario thinking, and exhaustion?
If you stopped and took a moment to reflect, are you afraid of the feelings that would likely surface?
Perhaps your life these days is defined by perpetual, unending worry. The minute you accomplish one task, you're busy trying to troubleshoot the next thing on your list. Whether you're trying to stay on top of your educational/professional goals, domestic responsibilities, or interpersonal relationships, you may feel like there is never enough time in the day to get everything done. 
Yet, it's impossible for you to adjust the expectations you've set for yourself. Concerned that everything will fall apart if you aren't the one to tackle a project, you probably don't accept help very often. This may have contributed to feelings of resentment toward your family, partner, and coworkers, or skewed your perception that accepting help indicates weakness and failure. Instead of feeling confident in your abilities and support systems, you are afraid to let go of your sense of control—even though it's rare for you to feel at all in control anymore.
Common Symptoms Of An Anxiety Disorder
In addition to perfectionism and overwhelm, other physical, emotional, and cognitive symptoms can also signal anxiety. Maybe you experience frequent head, stomach, or body aches. Regularly tense, you may find it hard to relax or maintain a consistent sleep schedule.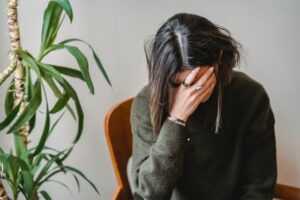 Without adequate rest, you can't function as well as you'd like. As a result, you're often irritable, agitated, and impatient. This has probably led to more frequent conflict with your partner, kids, or friends, and you may be feeling too exhausted to maintain healthy connections. If you struggle with social anxiety, you probably avoid your relationships altogether. 
When you finally get a moment to pause at the end of the day and take a break from life's demands, you may feel restless or guilty. Instead of facing your stressors or worries head-on, you might be more likely to pour yourself a glass of wine or reach for your phone to mindlessly scroll the internet. Perhaps these distractions are the only way to get relief from constant, disruptive symptoms. 
But counseling is a way to alleviate your anxiety. Working with a trained therapist, you can develop skills for managing stress, overcoming perfectionism, and reducing the overall anxiety you experience. 
When We Regularly Cave Into Our Inner Critic, Inflexible Thinking Becomes The Norm
Not only is anxiety extremely common, but it also has some evolutionary benefits. The function of anxiety is to keep us feeling safe and prepared for life's mishaps. And for those of us that are genetically predisposed toward anxiety disorders or struggling with unresolved trauma from the past, we are more likely to develop disruptive symptoms that impact our functioning.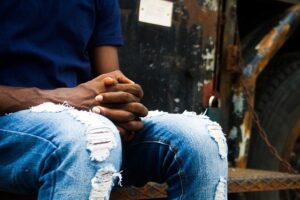 We also live in an atmosphere of high achievers and competitive professionals. The Bay Area is full of people who have worked hard to be at the top of their fields, so issues of anxiety and imposter syndrome are particularly prevalent in our community. 
However, our inner critic can creep up without us recognizing how damaged our self-image has become. When that voice does everything it can to discourage us or catastrophize the situation, it's hard to hear beyond the negativity and self-doubt. We trick ourselves into believing that if we relinquish control or accept even a little assistance, we are doomed to fail. 
Therapy allows you to put your worries into perspective, and the clinicians at J. Woodfin Counseling have the training and experience to help you meaningfully address your anxiety. 
Anxiety Treatment Offers You A New Way Of Living
Without perspective, it's difficult to understand how your inner voice influences your thoughts, emotions, and behaviors. Anxiety treatment can help you learn how to listen to that voice, check the facts, and challenge the negativity. With the insights you gain in counseling, you'll be able to understand your need for control and why you struggle to trust others so that you can work toward a more balanced life. 
A nonjudgmental, objective therapist will help you be more aware of your anxiety while offering strategies for making decisions based on reality instead of fear.
Our Approach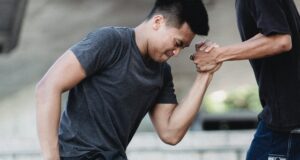 At J. Woodfin Counseling, we provide anxiety treatment to teens and adults. Our intake process includes history taking and presenting anxiety symptoms. For clients ages 13 to 17, we involve parents to clarify the treatment process and limits of confidentiality, but in general, anxiety treatment places our individual client at the center of therapy. 
As we learn more about your strengths and goals for counseling, we will customize sessions in a way that effectively targets your anxiety. Using the insights you discover alongside your therapist, you will be able to challenge limiting beliefs, act with more flexibility, and see hope in the gray area—as opposed to the restriction of black-or-white, all-or-nothing thinking. 
Our clinicians believe that there is a difference between advice-giving treatment and insight-oriented treatment; one addresses surface-level symptoms while the other honors your unique strengths to address the core of your anxiety. With our approach, you will develop a more life-affirming perspective that can help you better understand your place in the world, how to operate with freedom, and how to maintain a sense of safety while doing so. After years of living with anxiety, you can finally see that it is possible to think and live differently. 
You have the power to determine how your time, energy, and resources are spent. In anxiety treatment at J. Woodfin Counseling, you can embrace your strengths and agency in a way that will improve your overall experience. 
Maybe You're Overwhelmed By Anxiety But Don't Know If Therapy Is Right For You…
I don't have time for anxiety treatment.
We understand that it's overwhelming to consider adding one more thing to your already overflowing plate. And therapy is indeed a commitment. However, by making this commitment to just one hour a week, you can start to experience meaningful growth and change in your life. You'll be able to see that it's possible to live differently and with less stress. 
Note that anxiety treatment is available online via telehealth if time is still a concern. Video sessions create more flexibility and remove the hassle of a commute. 
Counseling is too expensive.
This is a common concern, and we've observed many prospective clients struggle to feel worthy of an investment in themselves. But choosing to begin therapy is choosing a healthier way of living. By committing to anxiety treatment, you are prioritizing yourself in a way that will make you a better parent, child, partner, peer, and friend—both to others and to yourself. 
While we are out-of-network with all insurance companies, we strive to make therapy accessible and convenient for our clients. If you'd like to submit a superbill to your insurance provider for reimbursement, let us know. 
Does anxiety treatment take a long time?
Because every course of treatment is different, the time spent in counseling will vary from person to person. It took a long time to learn anxious thinking patterns, so it will take some time in therapy to de-condition yourself out of anxiety. Counseling may take a while, but the changes it promotes are often lasting and life changing. 
Find Peace In The Gray Area
Your anxiety has been calling the shots for too long, but therapeutic treatment at J. Woodfin Counseling paves the way for a happier, healthier, less black-and-white life. 
To learn more about how our anxiety disorder specialists can help, visit our homepage. 
If you're ready to see if therapy is right for you, Great!  You can choose your therapist and schedule your first session here:
Or if you have questions you can call or send us an email. 
We'll reply the same business day, answer any questions you have, ask how we can help, decide if we're a good fit for each other and we'll get the process started.